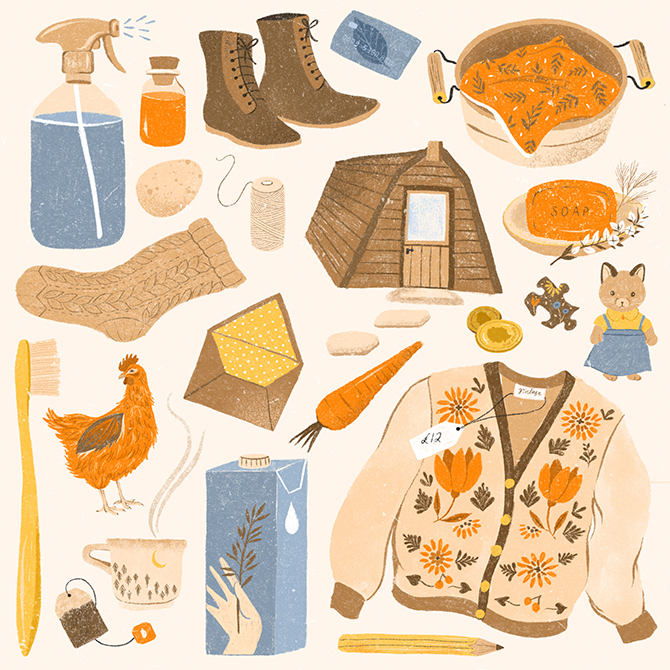 For ages I've been wanting to share some of my favourite sustainable swaps I've made in my shopping and lifestyle habits over the last few years, so I thought I'd draw some! ✏️

I hope that you can decipher my emoji key below, and find some helpful sustainable alternatives for your own eco missions!

🧼 The humble bar of soap is a great replacement for bottled shower gel. I also get a big container of hand soap refilled at our local zero waste shop @preserve_foods when our pump dispensers are running low.
🥛 Consider switching from cow's milk to oat milk (@minorfigures is my favourite, and claims to be 'carbon neutral'), or if you drink dairy, find out if you can get milk delivered to your door as part of the local milk round.

☕️ Some teabags contain plastic! Try a biodegradable brand, like PG Tips.

🥚 If you eat eggs, consider buying organic. Free-range may sound like the best option, but organic assures much higher welfare standards for hens. If you're interested, find out more info here.
🥕 Get a food waste bin! They're free in Bristol, collected weekly, and the waste is used to make bio-fertiliser for farmers, generate electricity and fuel Bristol's bio-bus. If you can't recycle food waste locally, get in touch with your local MP or councillor.
🥕 Veg boxes can be on the higher end of the affordability scale, but so worthwhile if it works with your budget. Less packaging, seasonal and often local.
🧦 One of my favourite swaps I've made is 100% plastic free laundry detergent capsules posted through my door from @smolproducts. They're really good value and affordable on a smaller budget.
💧 You can re-use your old cleaning spray bottles by using plastic-free soluble anti-bacterial sachets like @ironandvelvet, or use refillable spray bottles from @smolproducts.

🧺 Consider swapping your usual scouring pad for machine washable dish cloths. I use @tabithaeveco; a slightly higher price tag, but long-lasting and good for harder scrubbing!

✉️ I keep a lot of the postal packaging I receive to re-use for Etsy orders or returns. You can jazz it up and save money!
👚 Buy second-hand! There are often lovely things in charity shops, and I sometimes buy pre-loved clothes on Depop.

🧩 You can also find amazing used toys on Facebook Marketplace, but you sometimes have to travel to pick them up. If you're buying wooden toys new, look for the FSC certified wood mark.
🏠 If you can afford to, take a staycation instead of a holiday abroad. I hope rail prices will become more affordable soon to support this style of holidaying.
🦷 I've found cornstarch toothbrushes and plastic-free dental floss to be just as good or better than plastic alternatives. You can also get recyclable toothbrush heads for your electric toothbrush from @livecocouk.

💳 Green your money! I recently switched my Barclays account for a @triodosuk account when I found out how much Barclays had invested in fossil fuels in 2020. The Triodos customer support team is based in Bristol and they only invest in ethical schemes. Hit me up if you know of any ethical credit cards, because I'm still searching.

🥾 Vegan Doc Martens – possibly my favourite gift from last year! They're not cheap, but they have seen many a muddy walk and always keep me dry and look brand new after a quick clean. I think they will easily stand the test of time.

🥚 Lastly, another egg-shaped product. @Lush has a brilliant natural range of foundations called Slapstick which are almost completely zero waste.

Please share with me your personal favourite ethical products. You can find me at @drawnbydawn. I'm keen to learn! I'm sure there are plenty of things I've forgotten (low-waste makeup, recyclable razors) – perhaps a follow-up post is due some other time!