About Me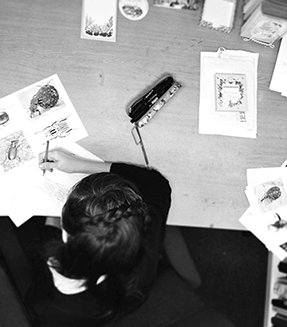 Dawn Cooper graduated from the Bath School of Art & Design in 2011 with a first class degree in Graphic Communication. She is represented by The Artworks illustration agency, and works from the Drawn in Bristol studio in Bristol's creative quarter, Stokes Croft.
Dawn's work is heavily inspired by natural history and botanical illustrations, as well as things she has read or seen on her travels. She is a great lover of quotes, and telling stories through a singular image.
Dawn draws everything by hand, before assembling her drawings on screen to make multi-layered, digitally coloured illustrations with lots of texture. Their densely patterned layers are often likened to traditional print and mark making.
In the rare moments when she's not drawing, Dawn likes nothing more than a long, rewarding walk with her camera.

---
Clients include
BBC Wildlife magazine | Chateau Ste. Michelle | Egmont UK | Fortnum & Mason | Hachette | Harper Collins | Heath & Heather | History Revealed magazine | John Murray Publishers | Penguin Random House | Running Press | St George's Concert Hall | Walker Books
Stockists